Levity:
"The law of levity is allowed to supersede the law of gravity" — R.A Lafferty
The world around us continues to move, spin and bring chaos. Levity helps ground us, keep us sane. What does "levity" mean to you? How has it made an impact in your life? We would love to read how you interpret "levity," through prose or poetry, or some combination of the two. All genres and themes are welcome.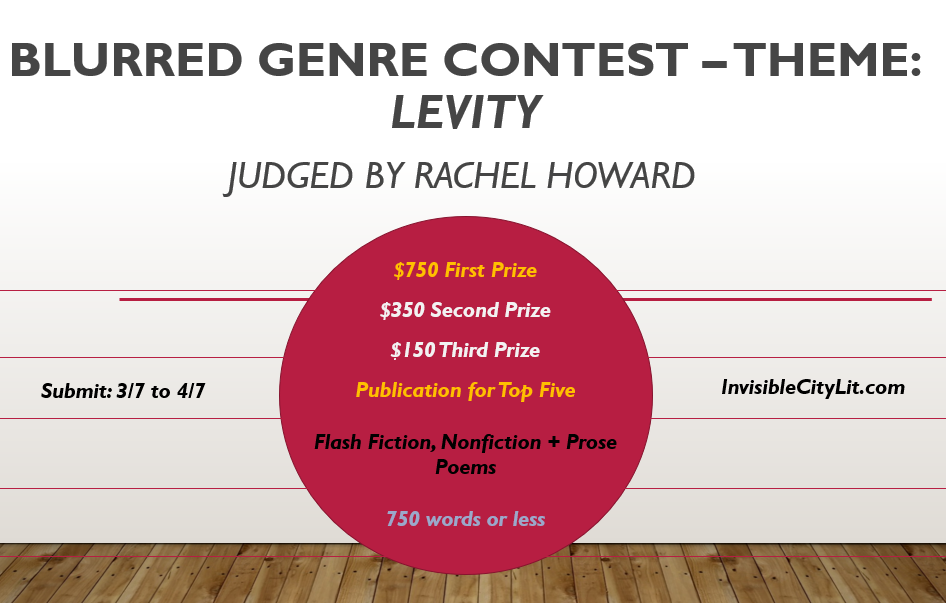 Submission Period:
March 7, 2023 to April 7, 2023
Judge:
Rachel Howard
Prizes:
First Place – $750
Second Place – $350
Third Place – $150
Publication for Top Five
Submission Details:
750 words
Flash fiction, Nonfiction, or prose poetry
1 submission per person
Entry Fee:
None. Submissions are free.
See full contest details below.
---
About Our Judge, Rachel Howard:
Rachel Howard is the author of a memoir, The Lost Night, and a novel, The Risk of Us . Her fiction and nonfiction have appeared in New York Times Magazine, StoryQuarterly, Gulf Coast, Zyzzyva, Los Angeles Review of Books and other literary journals. More of her work can be found at: http://rachelhoward.com/.
---
See below for full contest details:
Contest submissions must be 750 words or less and can be flash fiction/nonfiction, prose poetry, or some unique combination of the three. Submissions must be the original work of the submitter and unpublished (and not slated for future publication).
Make sure to select Contest as your genre in the dropdown in our submission form. We will only be considering entries through this genre.
Limit one submission per writer per contest–multiple submissions will be disqualified.
We accept simultaneous submissions, but please notify us immediately if accepted elsewhere.
Make sure your name and other identifying information DOES NOT appear on the attached file. Any personal information or cover letter should be contained in the cover letter section.
Current students at the University of San Francisco and those with a personal relationship to the judge are ineligible to submit.
Previous contributors to Invisible City may submit. Writers may also submit to one non-contest genre during this reading period.
Submissions open March 7, 2023, and close April 7th, 2023 at midnight PST. Only submissions made through our submission manager will be considered. No email or snail mail submissions.
Double-spaced, 12-point Times Roman submissions are always appreciated by our readers.